About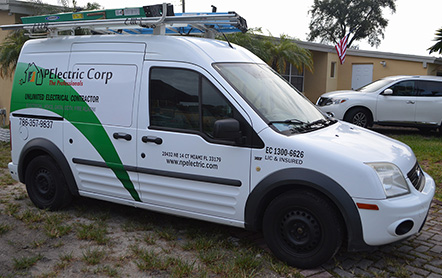 Np Electric Corp was founded on May 25th, 2007 by Nacianceno Patino, a graduated Electrical Engineer from Universidad Industrial de Santander in Bucaramanga Colombia, and Master electrician licensed by Electrical Board of Florida EC1300-6626. An electrician with more than 15 years of experience in Electrical work in Colombia. He worked for electrical contractors in Miami Area from 2004 to 2007, when he started his own business. Np Electric Corp is a specialist in Custom House Build out. We have made the electricity of more than 15 Houses in Miami Area: Pinecrest, Coral Gables, Coconut Grove, Key Biscayne and Miami Beach. Np Electric Corp also work in commercial projects;
Retail Stores:
Vhernier ™
Channel™
Claudio Milano™
Prada™
Restaurants:
Tierra Bomba™ 1
Tierra Bomba 2
Orale Mexican Grill™
Offices:
Bay View Financial™
Miami Skin Institute™
Dra. Alisa Herman™
BBC™
Miami Fine Arts Academy™
and more. Our Experience combined with continued education, and training of our electricians, guarantee a work on time and reliable prices.